Our History
1888
Lucius Olen "L.O." Crosby, Sr. (1869-1948) left the family cotton farm with a 3rd grade education at age 19 to work hauling logs behind oxen. L.O. Crosby went from logging trees to becoming the largest and wealthiest timber industrialist in Mississippi.
1917
Goodyear Yellow Pine Company was created by L.O. Crosby, Sr. and his partner Lamont Rowlands.
Goodyear Yellow Pine Company, a sawmill plant located in Goodyear, Mississippi, (near Picayune) was one of the largest lumber operations in the south by the 1920's.
L.O. Crosby, Sr. and his partner Lamont Rowlands purchased Rosa Lumber Company, another sawmill plant, in 1917.
1923
L.O. Crosby Sr. became the President of the Mississippi State Chamber of Commerce.
1926
Rosa Lumber Company and Goodyear Yellow Pine Company merged into one company.
1929
L.O. Crosby Sr. gained full ownership of Goodyear Pine Company.
1930

Due to the Depression in 1930, the company was forced to shut down temporarily. In order to keep paying its employees, L.O. Crosby took the family into the farming business.
1934
The town of Stephenson in Mississippi was renamed "Crosby" after L.O. Crosby Sr. purchased the Foster Creek Lumber Co. He served as President of the new company now called Crosby Lumber and Manufacturing Company, while his three sons served as other company officers.
1937
Goodyear Yellow Pine Company tried without success to interest someone in the Wood Naval Stores business to build a plant in Picayune, Mississippi to process stumps. Pine stumps were plentiful from the timber operations used to supply the Crosby owned sawmills.
Unable to attract a company to build a plant in Picayune, the family decided to undertake the project themselves.
After almost 40 years of owning and operating sawmills and related businesses, L.O. Crosby and his three sons, Robert "Howell" Crosby Sr., Hollis Crosby and L.O. Crosby Jr., Robert Sr., took the family into the Naval Store business. The plan was to develop a new manufacturing business that would not only bring significant economic rewards, but also begin the process of regenerating thousands of acres of company owned timberland.
Construction of the plant in Picayune, MS began in the spring of 1937 and operations began in November 1937.
Ninety barrels of rosin were produced the first day. As the quality of the products being produced by Crosby became recognized, expansion of the Picayune plant had grown to 600 tons per day. By then it was one of the three largest producers of naval stores products in the United States.
1938
On November 4th, 1938 the first Board Meeting of Crosby Naval Stores Incorporated was held, thus, 1938 is considered the first year of operation for anniversary purposes.
1945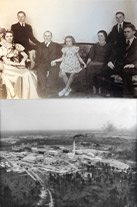 Near the end of World War II, the demand for Crosby products had grown to a size that one plant was unable to meet the demand of the trade. Other locations were surveyed for a new source of stumps and location of another plant.
After several months of land surveying, the new plant site was located and stumping rights to cut over land was secured. Due to its location in the middle of thousands of acres of "virgin" stump land, on three railroads, and within 50 miles of a deep water port, DeRidder, Louisiana, was selected as the location for a second plant. The land was considered poor and without much value and the purchase price reflected that fact. The resources that lay in these lands, predominantly longleaf pine stumps.
Robert H. Crosby Jr. joined the business full time after serving in WWII and headed to DeRidder for construction of LA plant. Soon after Robert H. Crosby Jr.'s two brothers, Richard (Dick) Crosby and Tom Crosby joined the company and ran the sales and plant operations.
The DeRidder plant was designed for a 1,000 ton (stumps processed) daily capacity.
Thus, by 1947, from a small beginning 10 years earlier of a facility with a 250 ton daily capacity, Crosby Naval Stores grew into a successful organization, encompassing 2 plant facilities, capable of processing 1,600 tons of stumps daily. Crosby Naval Stores employed between 500 and 600 people in plant operations and from 1,000 to 1,200 in stump operations.
1946
The name of company changed from Crosby Naval Stores, Incorporated to Crosby Chemicals, Inc. to better describe the products produced and also to avoid the confusion the general public associates with Naval Stores, namely ships and marine equipment.
Crosby products were sold worldwide.
The Company produced 100 varieties of rosin and terpene products, the more important being all grades of wood rosin, resins, paper size, turpentine, pinene, dipentene, terpene solvents and several grades of pine oil and related products.
All of these products were basic materials needed in the painting, coating, ink, adhesive and paper business.
In order to package its products, the company operated both a canning and bottling facility.
At the same time as the stumps were being pulled from the company owned land in Louisiana, foresters were busy planting pine seedlings. This created what would later become a valuable resource to the family owned company.
1955
By 1948, the company accumulated approximately 150,000 in Louisiana.
Robert Howell Crosby Sr. and his brothers divided the company in 1955.
R.H. Crosby, Sr. and his family gained complete ownership of Crosby Chemicals, Inc. from his extended family.

Ownership of Crosby Chemicals was held by Robert Crosby Sr., his wife and their five children.
Hollis Crosby and L.O. Crosby Jr. continued to operate mills and significant timberland and mineral holdings, mostly in Mississippi.

The stumps on the family owned property were running out and the plants were converted to Tall Oil Plans which allowed the company to continue to produce versions of the same products.
Tall oil resins are used as a component of adhesives, rubber, and inks. Crosby purchased tall oil from paper mills and sold refined products to companies such as 3M.
1977
Eventually, as the company continued to meet competition from the same companies now supplying the basic raw material to operate (crude tall oil), the plants were sold.
The plant in DeRidder, LA was sold to MeadWestvaco Corp in 1977.
1982
The plant in Picayune, MS was sold to Sylvachem Corp.
The Company continued to manage the 123,000 acres of land and minerals.
1986
Crosby Chemicals Inc. became a Mississippi partnership with six Subchapter S corporations as the owners.
The focus of the business was the management of both timberland and minerals.
1991
Crosby Chemicals changed its name to Crosby Land & Resources, a Mississippi partnership.
1997
Robert H. Crosby III was elected President of Crosby Land & Resources.
The Company saw unprecedented development of its minerals from 1995-2001 due primarily to the oil and gas exploration of the Austin Chalk.
2005
Crosby Mineral Company, LLC was formed in June 2005 to pursue outside investment opportunities in the oil and gas industry.
2007
The Company formed Crosby Resource Management, L.L.C., a full service forest management company, headquartered in Sugartown, Louisiana.
2009
Crosby Land & Resources merged from a Mississippi partnership to a Louisiana Limited Liability Company named, Crosby Land & Resources, L.L.C.
2012
After serveral transactions during the preceding decades, the Crosby ownership was approximately 135,000 acres.
Crosby Land & Resources, LLC headquarters moved from Mandeville, Louisiana to New Orleans, Louisiana.
2013
November 2013 was the 75th anniversary of the company's existence, going back to the incorporation of the Naval Stores in 1938.
2014
The company is headquartered in New Orleans, LA.
The company owns approximately 135,000 acres of timberland and minerals located in Allen, Beauregard, Calcasieu, Rapides and Vernon Parishes in west Louisiana.
The 6 former Subchapter S corporations formed in 1986 were merged into one company, Crosby Companies, L.L.C.
The members of Crosby Companies L.L.C. are descendants of Robert H. Crosby Sr.